SensorServer® provides a virtual sensor capability that can be attached via a DIS interface to drive sensor image generator and associated platform targeting overlay symbology from a constructive entity. In the first version the sensor will simulate a Sniper and LANTIRN pod that could be carried on an F-16 aircraft entity. The goal is to easily add additional EO sensor types as well as new sensors such as SAR in addition to supporting other entity types like B-1B, F-18E, F-15E and UAVs.
This Target Pod Demo, tracking a Ground and Sea Target, will give an example of what Sensor Server can do.
SensorServer feature set:
Any constructive entity can be assigned a virtual sensor instantaneously
DIS v6 interface to drive sensor line of sight, FOV and sensor modes
Reconfigurable for multiple platform and sensor combinations
User control panels, LOS steering, situational awareness and platform sensor repeater displays
Current platforms include: F-16C, F-16E, F-18E, B-1B and MQ-1
Current sensors include: LANTIRN TGP, Sniper TGP and L3-MX-15
IG can be delivered with MetaVR or use customers existing CIGI based image generator
Supports IG generated modes : BHOT, WHOT, CCD-TV, SAR (future)
Supports Sensor modes: A-S, A-A, Area Track, Point Track, Scan Patterns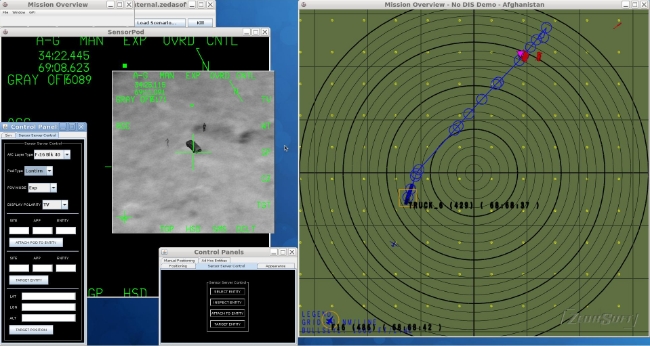 F-16C with LANTIRN TGP A-G mode tracking a truck
The SensorServer DIS interface drives the sensor LOS which can be body stabilized for pitch, roll, yaw to simulate the capabilities of the sensor. A client application runs on the constructive simulation system providing the graphical interface to user to transfer and control the virtual sensor.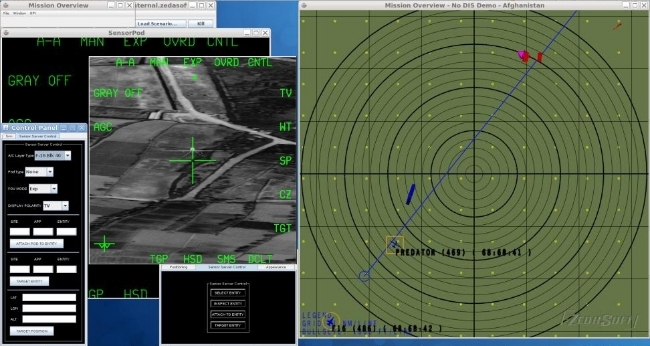 F-16E with SNIPER TGP A-S mode tracking a truck
In the case of a target pod, the logic and symbology is already modeled in ZedaSoft"s CBA software and is adapted for the stand-alone LANTIRN and Sniper pod models. The masking logic modeled in CBA is reused and adapted based on Target Pod type being simulated. The correct field of view settings per the pod type supports Area and Point track capabilities.Laser ranging using correct slant range to the terrain or modeled cultural feature is supported. EO sensor capabilities are currently simulated based initially on the MetaVR VRSG IG capabilities. These MetaVR sensor views provide IR (WHOT, BHOT) and CCD TV simulations.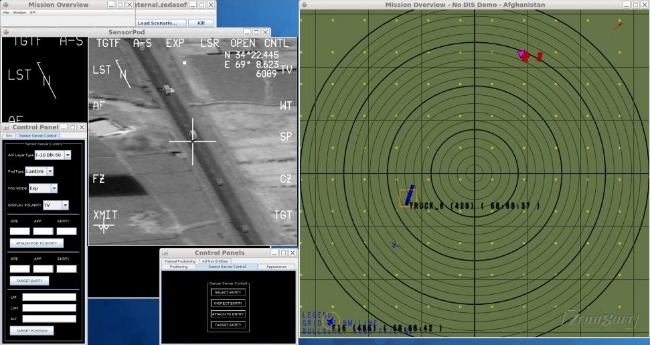 MQ-1 Predator with EO/IR sensor tracking an aircraft
The system architecture is a server computer system running a DIS front end process
and running the target pod and MFD template models. The server is interfaced with
the IG computer system rendering the simulated sensor scene. In a future release,
this architecture makes it possible to run multiple sensor scenes from a single
sensor server thus scaling the number of sensors supported by adding the needed IG
channels for each sensor.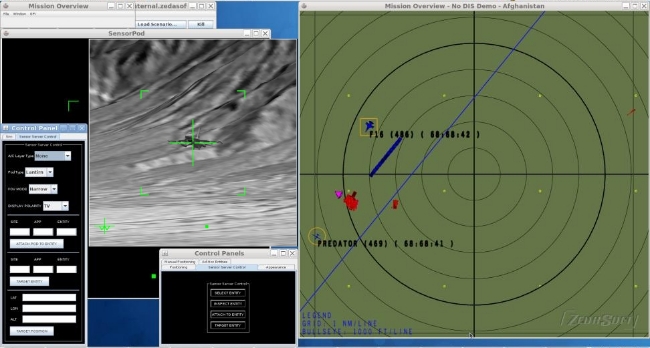 F-16C with LANTIRN TGP A-A mode tracking a MQ-1 Predator