Visual Display Options
Out-The-Window Display Systems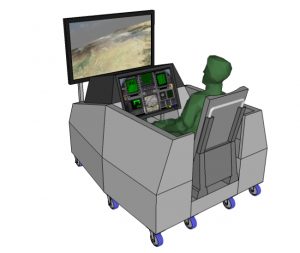 Single Displays
We have a wide selection of out-the-window display solutions that can be integrated with any of our simulator products, from single 24" LCD displays to near full field-of-view domes. All displays are carefully selected to
provide the best presentation and fast update rates for your simulator.
All single display systems are turnkey solutions that include computers, MetaVRTM's VRSGTM image generation engine software, monitors/projectors, cabling, optional mounting hardware and CBA® for Simulation plug-ins required to drive the visual scene and synchronize the simulation to it.
Single out-the-window display solutions include 24" LCDs, 30" WQXGA (256-x1600px) high-resolution LCDs and almost any COTS LCD or LED available. Single screen options can be used on the desktop using the regular monitor stand,
or mounted on an integrated bracket that attaches to our Reconfigurable Cockpit System (RCS).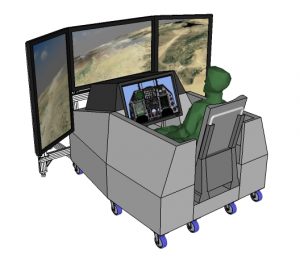 Multiple Displays
A step up from the single screen solution is our portable Multiple Display Stand (MDS). The MDS can hold up to
three 60" LCD/LED displays in any combination of portrait or landscape modes.
If you need a cost-effective, portable and immersive display solution, then this may be a good choice. MDS options include:
Integrated 19" computer rack
Folding front frame model
Shipping case for folding model
LCD/LEDs and mounting hardware
Shipping cases for displays
A popular MDS configuration uses three 47" LCDs, computer rack, three computers, and three VRSG licenses. This configuration is foldable, and comes with an ATA compliant case for shipping.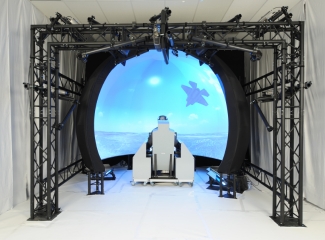 Domes
We offer a number of dome solutions, including portable and fixed-base versions. The portable domes are fabric, reverse pressure structures that set up or tear down in one day. The fixed-base versions are fiberglass shells that provide a seamless display surface for viewing the out-the-window scene.
We have standard configurations that work with our RCS product. The system can also be purchased as a stand-alone system that can be integrated with your simulator. Custom configurations are usually required when new devices will be installed in the domes allowing us to ensure all display surfaces are utilized.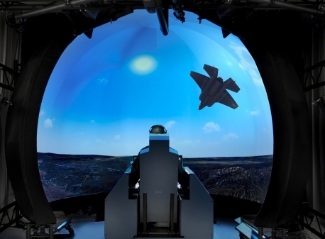 Some of the standard configurations are:
220 HFOV x -30/+55 VFOV (requires 6 projectors and IG systems)
270 HFOV x -30/+120 VFOV (requires 10 projectors and IG systems)
220 HFOV x -55/+30 VFOV (good for helicopters; more look down angle)
Some of these configurations can be installed in facilities with ceiling heights as low as 10' in a footprint of less than 16' x 16'. All dome systems come with the fabric display surface and backing material, dome skeleton, reverse pressure pump, projector structure, standard HD projectors, computer rack with visual scene computers, MetaVR's VRSG visual scene software, a rack-mounted LCD/keyboard/mouse and all network, video and power cables required to provide a turnkey dome display system
Options include:
3, 4 and 5 meter diameter configurations
Smear reduction HD projectors (for fast flying/moving systems)
Dedicated projector for HUD area without blending
HUD plug-ins for a growing number of CBA-based aircraft
HMD plug-ins to view HMD symbology on the dome surface (virtual HMD)
Custom dome stand to adjust for Design Eye Point (DEP) locations
Anvil style shipping cases for all equipment
Dome display from I/ITSEC 2011
Please see the Contact Us page to get more information on a standard dome configuration or to customize one for your specific needs.